Here at Whizzard we take our training very seriously, that's not to say we don't have fun! But we pride ourselves on the high standard of our training.
We are a Approved Training Organisation (ATO) which means we are fully approved by the Civil Aviation Authority to offer training from a private pilots licence (PPL) to a commercial pilots licence (CPL) and flight instructors rating (FI) with type conversions on the Robinson R22 and R44 and Bell 206 Jetranger.
If you just want to fly for pleasure then a PPL is sufficient, if you want to earn money from your flying then you need a CPL. More details of each of these licences can be found by clicking on the links to the left.
All training starts with a PPL, to progress to a CPL you need to build up 155 hours total time and gain a pass in all the commercial ground exams. The commercial flight training course consists of a minimum 35 hours flight instruction followed by a flight test with a CAA examiner. The next step is to become a flight instructor, for this you need a total of 250 hours. The course for this consists of 30 hours flying and 125 hours of ground school, and again a flight test at the end.
The hour building is the main fun part of your flight training, but we encourage all our pilots to follow our structured hour build course which will prepare them for their career as a commercial pilot. We also organise group trips ranging from away days to 2 to 3 day tours.
So what if you've never had a go before? Well below is a choice of trial lessons for you to choose from but be warned the 'bug' is very infectious!!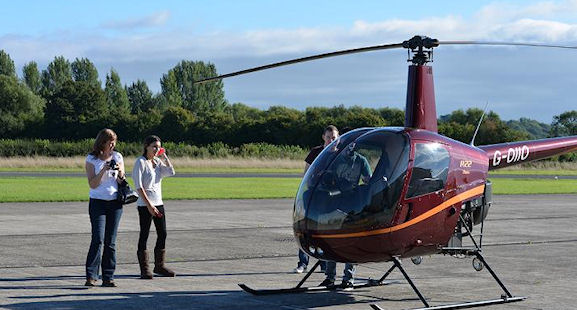 For an introduction to helicopter flight please choose from the following:
30 Minute Trial Lesson – £225.00 inc VAT
In a 30 minute briefing session your instructor will explain the basic principles of helicopter flight and how the controls of the aircraft make the machine so manoeuvrable.  You'll have 25 to 30 minute flying time, be encouraged to operate the controls yourself and experience straight and level flight, turns and the challenge of hovering.  BOOK ONLINE
40 Minute 'Air Raising' Trial Lesson – £325.00 inc VAT
An extension of our standard 30 minute Trial Lesson where, during the final 10 minutes, your Instructor will demonstrate some of the more exhilerating manouevers that can be accomplished in a helicopter.
You will understand why people love to fly helicopters after this!  BOOK ONLINE
1 Hour Trial Lesson – £450.00 inc VAT
With the 1 hour trial lesson you are given the opportunity to travel further a field if you wish or with the extra flying time you can really practice hovering and other fundamental manoeuvres your instructor has demonstrated to you.  BOOK ONLINE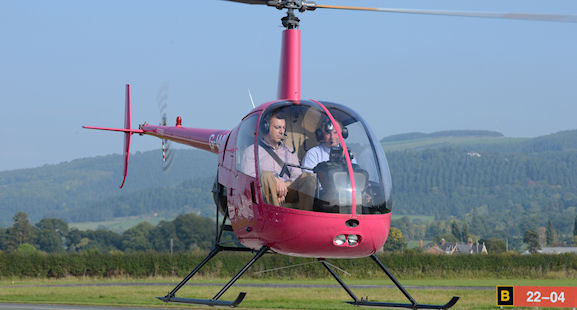 Introductory Day – £1025.00 inc VAT
In a day that includes 2.5 hrs flying and thorough briefings, this is a more detailed examination of the principles of helicopter flight. More advanced manoeuvres will be demonstrated and practised and you should come away with a good understanding of what it takes to make helicopters do what they can do.
The Introductory Day is a very good way of starting a PPL course. Also note that all the Trial Lessons and Introductory Day flying hours will count towards the 45 hr CAA minimum for a PPL(H) license.  BUY ONLINE
Vouchers & Gift Certificates
And don't forget too, that all of the above Trial Lesson flights can be purchased as Vouchers, when you buy a flight we issue you with a voucher which can be redeemed at a later date to suit you, so that they can be given as gifts for special occasions!
If you don't wish to buy the entire flight you can also buy gift certificates which range from only £20.00.  BUY ONLINE