CORONAVIRUS UPDATE      25/06/20
Due to the travel and social distancing restrictions still in place in Wales we unfortunately have to cancel the flights we have booked for July 4th and 5th.
However we are hopeful with pressure on the Welsh Government and the easing of the rules in England that these restrictions will be relaxed very soon. With this in mind we are hopeful to resume flying by the end of July.
We will be emailing customers with flights as their booking gets nearer and we have more information.
You can still book pleasure flights for later in the year using our online booking form but please be patient with us if we don't reply to you straight away.
We would like to that all our customers for their support at this difficult time, keep safe and we hope to have you in the air again soon.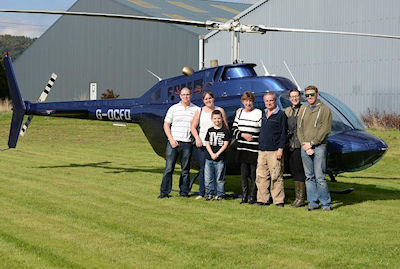 PLEASURE FLIGHTS

Take a stunning helicopter ride and see the world from a different view point.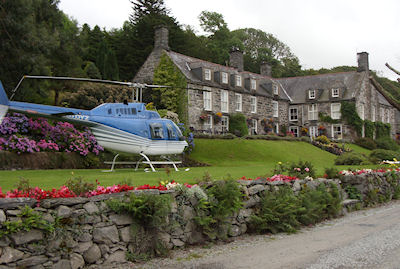 HELICOPTER HIRE

Fast and reliable service, whatever your business needs itinerary or destination.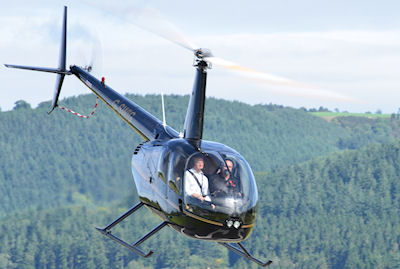 TRAINING & COURSES

Helicopter Trial Lessons, Private Pilots Licences, helicopter Type Ratings up to Commercial Pilots Licences.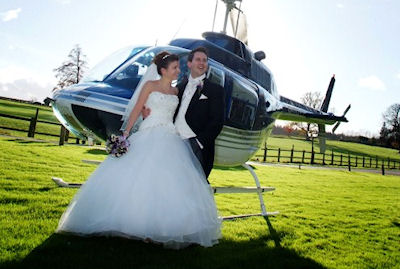 SPECIAL EVENTS

Arrive in style at sporting events, weddings, birthdays and any other celebrations you have planned.
Whizzard Helicopters was established in 2002 with the premise of making helicopter flying and training more approachable.  With years of experience and highly trained pilots let us take care of your helicopter flight needs. We can provide a comfortable, efficient and convenient helicopter charter service for private individuals or groups travelling to business meetings, sporting events or special occasions.
Want to learn to fly a helicopter? If it's Helicopter flying lessons you're looking for, as a CAA Approved Training Organisation (ATO) we can provide training from Helicopter Trial Lessons, Private Pilots Licences, helicopter Type Ratings up to Commercial Pilots Licences. We can guide you in all aspects on how to become a helicopter pilot in a relaxed and friendly manner.
Our Career Pilot Program and the offer of paid flying work at the end of your training may suit if you're are looking for a completely new and exciting change of career. The work we offer will kick start your aviation journey and help you in gaining the helicopter pilot job of your choice.  With our flying schools at Welshpool, Cardiff and Son Bonet Airport, near Palma, we can now offer helicopter flight training in both the UK and Majorca, this allows the chance to tailor your flying to suit you.
For aerial filming and photography you can't beat a helicopter, we have worked with many TV and Film production companies, our experienced pilots know just how to get that shot!
Do you just want to sit back and enjoy the view? Take a stunning helicopter ride and see the world from a different place with one of our helicopter pleasure flights over Snowdonia, Manchester, Mid Wales, Shropshire, Lancashire. Great gift idea!
Looking to buy a gift for someone special, why not consider a gift certificate? Starting from only £20.00 all our certificates be used for booking any flight at anytime, you can buy them online or give us a call on 01938 555860.
If you have any questions please do not hesitate to contact us.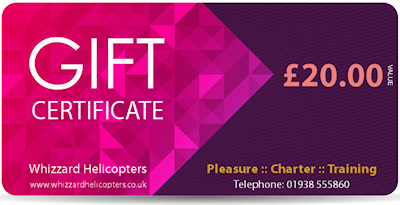 WHY
CHOOSE

WHIZZARD HELICOPTERS?
With over 20 years experience in providing helicopter pleasure flights, helicopter hire and our full pilot training programme we know what makes a great pleasure flight.
From the stunning beauty of the Snowdonia National Park, the wild and rugged coast of west Wales  and the undiscovered beauty of mid Wales to the city scapes of Manchester and Cardiff.

UPCOMING EVENTS

Why not arrive in style and on time at the many sporting events taking place , fly over the traffic queues by hiring your very own helicopter for the day.
Cricket
Golf
Football
Tennis
Rugby
Horse Racing
Motor Racing
Rowing
Sailing